New Home Owners: 4 Ways to Get your Home Ready for Storm Season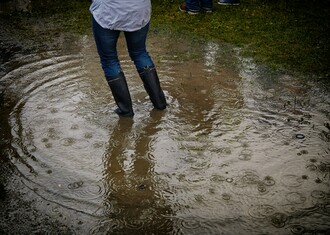 Congrats!
Buying your first home is a huge milestone in life, but the learning curve of how to care for and protect a home is also huge. To make it a bit more manageable, we've broken down our advice into 4 main ways that you can protect your new house during storm season.
Know who to call

The best thing you can do to prepare for storm season is to know who to call if you wake up at 2am with water in your basement or a tree branch through your window. Put the phone number of a restoration company and the phone number of your insurance company in your phone right now.

Delnor Restoration's phone number is 780-929-4004, you can call us 24 hours a day, 7 days a week and we'll be there to help.

Prepare the Inside of Your House

Sump Pump - Before storm season hits, check that your sump pump is working properly or install a sump pump in your home if you don't already have one. Sump pumps normally sit in the floor of your basement and protect your home from rising levels of ground water by collecting it and pumping the water away from your house into a storm drain.

Sewer Back Water Valve - Back water valves help prevent sewage from backing up into your basement. Make sure that a back water valve is installed in your home, especially if you live in an area that is known for sewage backups.

Contents - The items in your home can be easily damaged during a storm. It's important to protect your contents, especially in places like the basement, garage, and attic, by storing your items properly. Store your contents off the ground, by placing items on shelving or in water-proof containers with lids.

Prepare the Outside of Your House

Roof and Shingles - Your roof and shingles should be professionally checked before and after a severe storm. If shingles are missing and a storm hits, rain water can easily damage your home; if left un-fixed the possibility of rot and structural issues increases.

Landscape Grading - During storm season, a large percentage of our clients issues could have been avoided with proper landscape grading. When rain falls, you want the water to run off away from your home not toward it.

Eavestroughs - Throughout the storm season, check your eavestroughs and downspouts to make sure they're clear of debris. They are critical in collecting water and directing it away from your house during a storm, and should not be an after-thought.

Have a Good Insurance Policy

At Delnor Restoration we always say that sometimes bad things happen to good people. You might do everything right to prepare for storm season, but floods and damage can still happen.

It's easy to setup your home insurance and then toss your insurance policy papers onto a stack of other papers in your office. But one of the best things you can do to protect your home is to know what your insurance policy covers and what it doesn't. Call your broker or insurance provider on a yearly basis to review your policy.
Being a new home owner is an exciting time, but it can be difficult to know how to protect your home properly so that you can enjoy it for years to come - that's why Delnor Restoration is here to make it a bit easier, either giving you tips or helping you if a disaster does strike.
Download our storm-ready checklist to make sure you, your house, and your insurance policy is ready for storm season!