The Dangers of DIY Water Damage Restoration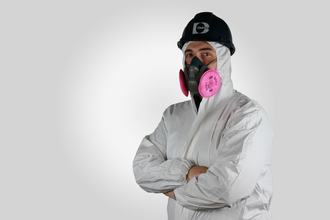 Water damage is a common problem for many homeowners, especially in Edmonton with our fluctuating temperatures, and it's often tempting to try to tackle the water restoration process on your own. But DIY water damage restoration can be tricky and dangerous and it's important to understand some of the risks involved. In this post we'll explore some of the dangers of DIY water damage restoration and why it's important to call in a professional.
Water Damage Detection
It's common for homeowners to think that the water you see is the water damage you get. Unfortunately, that's not normally the case, water damage can be more extensive than what meets the eye. IICRC certified water damage technicians have the tools and knowledge to map the extent of the moisture damage in your home, tracking it from the origin of loss and determining which materials are dry and don't need to be removed.
Water Damage Restoration Depending on Material
Your home is made up of numerous types of materials and water affects each of those materials differently. Some materials can be saved and dried out, while others require demolition and replacement. Often, this distinction is based not only on the material type but also on the category of water (clean, grey, or sewer) as well as on the extent of damage. It can be tricky to properly understand these distinctions when performing DIY restoration.
Ensuring Minimal Waste
Our water restoration technicians are trained to create as minimal waste as possible. They are adept in techniques such as drying holes, selective demolition, Injectidry systems, and thermal imaging, which allows for minimal demolition of your home. Minimizing demolition or using post-demolition drying techniques on certain materials ensures that new materials don't need to be purchased, saving cost to the homeowner and minimizing waste.
Electrical and Structural Hazards
Water damage can cause hazards in various areas, two of the most common are electrical and structural risks. If water has come into contact with electrical wiring or appliances you could be putting yourself or your family at risk by performing DIY restoration work. Similarly, structural hazards can be present in more advanced water losses as it compromises the structure of your home. If you're not careful you could cause further damage by attempting to restore these issues on your own, leading to costly repairs and even posing a risk to your safety.
Mould Growth
If water damage is not properly dried and treated it can easily lead to mould growth. Mould can be dangerous to you, your family, and even your pet's health, especially if anyone in your home has allergies or respiratory issues. Mould can also be difficult to detect and remove and is easier to prevent in the first place by ensuring your home is properly dried by a professional after a water loss.
A Devalued Home
Home inspectors can easily pick up on improper restoration work and DIY jobs. If your home has had a water loss that isn't properly dried a musty smell can form that will detract future home buyers. Inspectors also look for clues such as water stains on drywall or ceilings to inform them of past water losses that haven't been properly fixed. Issues that can significantly devalue a home's worth.
DIY water damage restoration can be a complicated process and it's important to call in a professional if you're dealing with water damage in your home. A restoration company, like Delnor Restoration Services, will have the experience, training, and equipment to properly handle the restoration process and ensure that your home is safe, health, and properly fixed after a water loss. Don't take risks with your safety and the integrity of your home – call one of our professionals for water damage restoration.