Delnor Recognized As a Certified Living Wage Employer!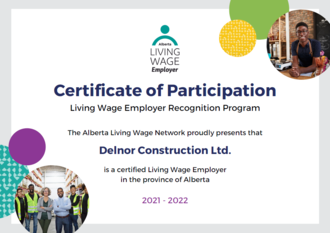 We are proud to announce that Delnor and its group of companies is now certified as a Living Wage Employer in Alberta.
This means we are committed to paying our employees a living wage that allows them to meet their basic needs and participate in their communities. A living wage is different from minimum wage in that minimum wage is mandatory and the same throughout the province while a living wage reflects what people need to cover the actual costs of living in their communities. Payment of a living wage is a voluntary commitment from employers to go beyond the minimum. We accomplish this through the wages our employees earn, the vacation they accrue, and the benefits they receive.
Living wages are calculated by the Living Wage Network based on the needs of a two-parent family with two children. It considers the hourly wage each parent would need to maintain a modest standard of living for their family, within the community they are living. The living wage calculation takes into account costs such as healthcare, food, clothing, shelter, transportation, childcare, tuition, and other household needs.
For more information on the Living Wage network please visit https://livingwagealberta.ca/