4 Things You Must Do When You Have a Burst Pipe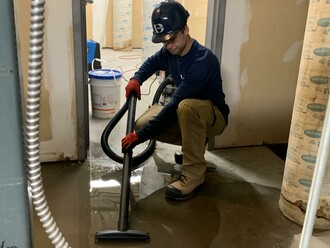 We all read stories or watch movies about catastrophes and walk away with the thought, 'I hope this never happens to me.' However, in the restoration industry, we know that catastrophes can happen to anyone at any moment, and we want you to walk away today prepared with what you will do when frozen pipes burst in your house, instead of just hoping that it won't happen.
There are four simple things that you must do once you realize that you have a burst water pipe. But it can be hard to remember in the moment. Print out this card and pin it to your fridge so that when catastrophe does strike, you remember what to do.
4 steps to take when you have a burst pipe.
1) Turn off your main water valve.
Take a minute right now to locate your main water shut-off, which will usually be in your mechanical room. This action can be the difference between having to tear out a few square feet of flooring or having to demo multiple rooms. The moment you see water leaking or pooling, turn off your main water shut-off valve. Open a tap after shutting off your main water to drain the lines (ensure that you close the tap again after the lines are drained).
2) Call Delnor Restoration.
After shutting off your water, call Delnor Restoration at 780-929-4004. Our promise is to be at your house within one hour of your call – day or night, to start helping with your loss and drying out your house.
3) Don't move any contents that are affected.
This can be the most difficult step -- after shutting off the water and calling a restoration company, most people look around and franticly start moving their possessions out of the water. If the water is contaminated and you move an item into a dry area of your house, the dry area where you put the item is now cross contaminated. Moving affected contents to dry areas of your home is one of the quickest ways to grow your loss, without even realizing it. We recommend taking preventative measures to keep your possessions safe from water losses, such as storing contents in your basement in Rubbermaid totes.
4) Minimize your loss.
Ultimately, it is your responsibility to mitigate the loss to the best of your ability. Between the time that you call Delnor Restoration to the time that we show up at your house, work to minimize your loss. If you have a shop vacuum, start extracting water. If you have a bucket, put it under the pipe that's leaking. If you have rags, soak up as much water as you can.
Protect your house as best as you can until we arrive, at that point our highly trained team will take over and you can take a deep breath knowing that your home is in the best hands possible.